The Boy Who Couldn't Sleep: Boy Stayed Awake 24 Hours A Day for Years
Rhett Lamb is often cranky like any other 3-year-old toddler, but there's one thing that makes him completely different: he has a rare medical condition in which he can't sleep a wink.
Rhett is awake Closely 24 hours a day, and his condition has baffled his parents and doctors for years. They took clock shifts watching his every sleep-deprived mood to determine what ailed the Youthful boy.
After a number of conflicting opinionz, Shannon and David Lamb Lastly learned what was wrong with their child: Doctors diagnosed Rhett with an extremely rare condition called chiari malformation.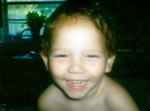 "The brain literally is squeezed into the spinal column. What happens is you get compression, squeezing, strangulating of the brain stem, which has all the vital functions that control sleep, speech, our cranial nerves, our circulatory system, even our breathing system," Savard said.
Leave a Reply
You must be logged in to post a comment.